"Angelina Jolie philanthropy: 5 notable charitable projects of the star"
"Angelina Jolie philanthropy: 5 notable charitable projects of the star"
Angelina Jolie is a talented actress and a beauty icon, but she is also known for her involvement in many humanitarian causes. Check out 5 of the star's landmark charity projects that have made a difference in the world.
1. UNHCR Goodwill Ambassador
Since 2001, Angelina Jolie has been a Goodwill Ambassador for the United Nations High Commissioner for Refugees (UNHCR). She has carried out more than 60 missions around the world to raise public awareness of the situation of refugees and advocate for their protection. Learn more about his role at UNHCR.
2. Jolie-Pitt Foundation
In 2006, Angelina Jolie and Brad Pitt created the Jolie-Pitt Foundation, which supports humanitarian projects around the world. The foundation has funded initiatives in the areas of education, health, conservation and sustainable development.
3. School for girls in Kenya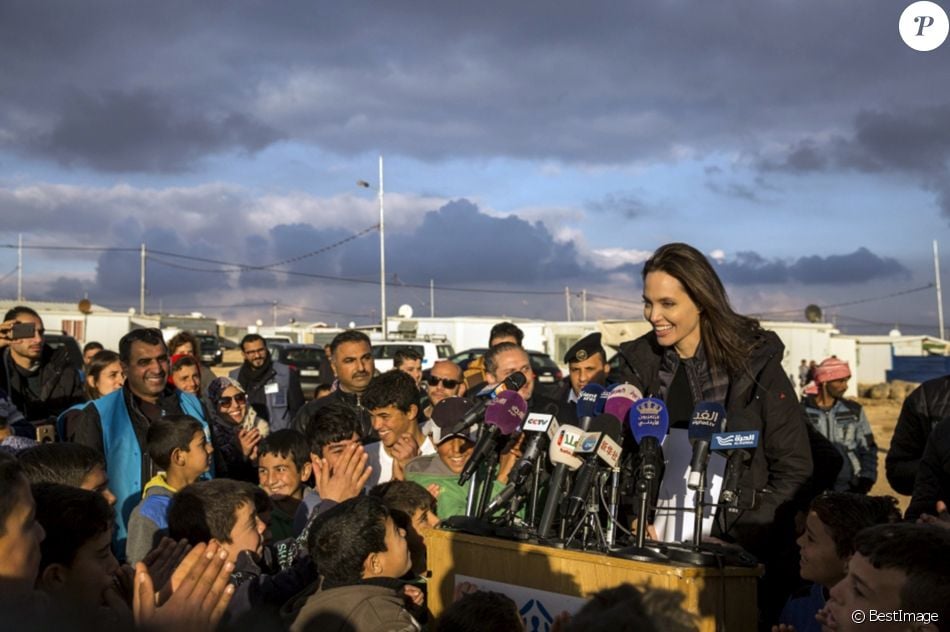 In 2002, Angelina Jolie financed the construction of a school for girls in Kenya. The establishment welcomes students from disadvantaged backgrounds and offers them a quality education, thus contributing to the emancipation of women in the region.
4. Fight against sexual violence in times of war
In 2012, Angelina Jolie teamed up with former British Foreign Secretary William Hague to launch the Initiative for the Prevention of Sexual Violence in War. This initiative aims to raise public awareness and promote justice for victims of sexual violence in conflict areas.
5. Center for Displaced Children in Cambodia
In 2003, Angelina Jolie founded the Maddox Jolie-Pitt Foundation (MJP) in Cambodia, a center that provides safe haven and educational support for displaced and orphaned children in the country. The foundation
also strives to preserve the environment and promote sustainable development in local communities.
Angelina Jolie has repeatedly demonstrated her commitment to humanitarian causes and philanthropy. Thanks to her projects and her notoriety, she has managed to raise awareness on crucial issues and to provide concrete support to those who need it most.
In my country, when the Middle East is mentioned, we mainly think of conflicts and human suffering. It is undeniable that countless families in Iraq, Syria, Libya and Yemen are experiencing conflicts they do not participate in, instability they cannot control and extremism they reject.
However, during my visits here, I am always struck by the extraordinary dignity, resilience, warmth, generosity and grace of the people of the Middle East. I would like to thank the Iraqi people for their generosity towards Syrian refugees and displaced persons, in particular the Iraqi Kurdistan Regional Government, which stands out in terms of refugee protection.
I am delighted to have been present for Eid-el-Fitr and wish the Iraqi and Syrian peoples and all families in the region and elsewhere "Aid Mubarak" and "Jaznawa Piroz Bit".
I am in Iraq as World Refugee Day approaches next week. On Tuesday, UNHCR will release new figures showing that the number of uprooted people and the length of their exile are higher than ever. At the same time, political solutions seem non-existent, creating a vacuum that humanitarian aid cannot fill.
Words like "unsustainable" cannot describe the desperation that characterizes this troubled time.
This is my third visit in six years to the Domiz camp. The vast majority of its inhabitants are Syrian women and children.
Their lives are on hold because of the war. They can't go home, they can't move forward, and every year their resources for day-to-day living diminish.
This morning I met two widowed mothers. They both lost their husbands during their exile as refugees due to health issues that could have been treated otherwise. Today, they both care for five- and seven-year-olds who also have life-threatening medical conditions.
Knowing that the response of HCR
R to the Syrian crisis was only 50% funded last year and only 17% this year, the human consequences are tragic. We shouldn't hide our heads about this.
When basic aid is lacking, refugee families cannot benefit from adequate medical care, women and girls are vulnerable to sexual violence, many children cannot go to school and we miss the opportunity to invest in refugees. so they can learn new skills and support their families.
This scenario is valid for Iraq, Syria and everywhere in the world where there are refugees and
"`