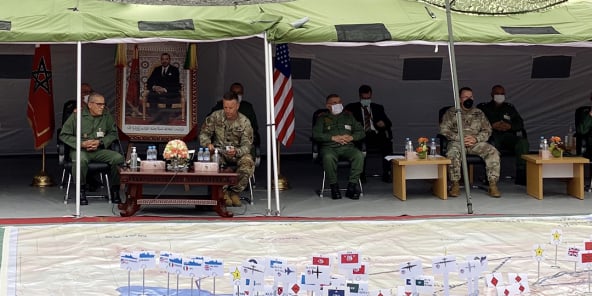 Morocco and the United States launched a session of joint military exercises near the Sahara on June 7. Operations are due to end on June 18. Reportage.
"The US military's largest exercise on this continent. ". This is how US Major General Andrew Rohling presents the 2021 edition of the African Lion military exercise, conducted jointly with Morocco on its territory between June 7 and 18, during the launch ceremony in Agadir. After entering the military base, you have to walk alongside huts tinted with yellow and an air strip, cross a corridor of flags of the ten partner countries, which frame the access to the green tents arched in the shape of a U.
Two generals, a Moroccan and an American, present the stakes of this 17th edition, in front of the portrait of King Mohammed VI. "This exercise has undoubtedly reached a degree of maturity which attests to the solidity of the cooperation relations between our respective armies", welcomes the general and commander of the South Belkhir El Farouk zone.
In the area contested by the Polisario?
Referring to "the evolution of global geopolitics", the officer of the Royal Armed Forces (FAR) insists on the need for "more multinational" military action to face "hybrid threats calling for protean modes of action ". An air training exercise involving "bombers, fighters and (devices) air supply" Moroccan and American will take place in particular, as well as naval maneuvers including "a naval fire exercise" joint between the navies of the two countries, according to Africom (United States Africa Command).
The base of Guerir Labouhi, one of the training sites, is located nearly 6 kilometers from the territory of the former Spanish colony
This article appeared first on https://www.jeuneafrique.com/1185127/politique/african-lion-2021-quand-les-armees-marocaine-et-americaine-sentrainent-a-la-lisiere-du-sahara /