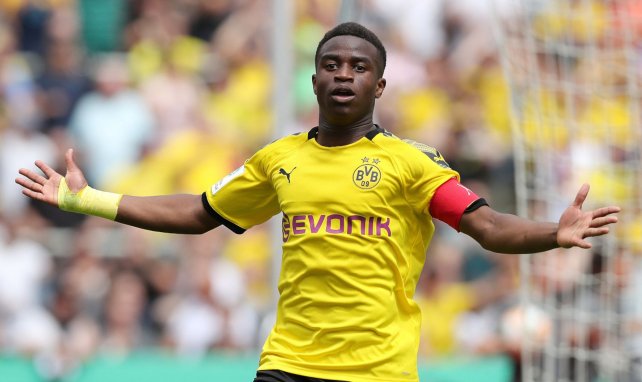 Eventful Sunday for Youssoufa Moukoko in Dortmund. Author of a hat-trick in the junior derby which pitted Borussia Dortmund against Schalke 04, the young prodigy of Cameroonian origin could well have savored his three goals if the opposing supporters had not spoiled everything.
Holder with the U19 Borussia Dortmund in the Ruhr derby against Schalke this Sunday, Youssoufa Moukoko (15) once again regaled his observers by serenely scoring a hat-trick in the victory of his team 3-2. If the very young striker scored his third consecutive hat-trick on Sunday in three matches, he was also the subject of racist insults from Schalke supporters when the young prodigy scored his third victorious goal. Indeed, Schalke's supporters were the authors of serious abuses and openly attacked Moukoko, sending him insults, promises of beatings and even death threats.
Words that the Gelsenkirchen club very quickly formally condemned on its Twitter account after the meeting. "We can only apologize for these comments from some fans. Whatever the emotions of a derby, we severely condemn and reject such insults ", said the Schalke club, assuring that it will take "The necessary measures".
A very good player, Youssoufa Moukoko expects to celebrate his 16th birthday on November 20 to start in the Bundesliga.
Comments
Comments
This article appeared first on http://www.culturebene.com/63252-lattaquant-camerounais-youssoufa-moukoko-menace-de-mort-pour-avoir-inscrit-un-triple.html