Poly Muzalia, Kinshasa, BBC Africa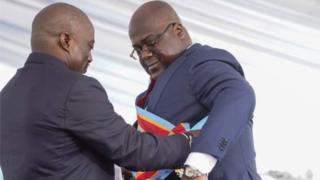 If the first tendencies of the elections are confirmed by the Independent National Electoral Commission (CENI), the former president Joseph Kabila and the FCC, the coalition he leads, should increase their grip on the Parliament.
The Ceni has not yet published the official results. But the pro-Kabila coalition has won nearly 80 percent of Senate seats, according to Felix Momat, one of the FCC's leaders.
This announced victory is not a surprise, as the coalition led by the former head of state has an overwhelming majority in provincial assemblies, which elect senators.
In January, the opponent Felix Tshisekedi was declared winner of the 30 2018 presidential election.
But Joseph Kabila and his allies retain a clear majority in the lower house of Parliament, that of deputies.
Read also:
Kabila's platform at the head of provincial assemblies in the DRC
In the DRC, Tshisekedi promises to release political prisoners
The senatorial elections confirm the supremacy of the pro-Kabila coalition over the legislative power.
But the polls are tainted with numerous allegations of corruption. About 20 candidates withdrew from the election of senators, denouncing demands for bribes from some provincial deputies.
Because of these allegations of corruption, the Attorney General called for the postponement of the Senate elections. But the electoral commission maintained the holding of the poll, which took place this March 15.
This article appeared first on https://www.bbc.com/afrique/region-47587515