The toxins are in the air, in the food and drinks and in the environment around us. These substances alter our body's response to infections, making it vulnerable to recurrent illnesses.
Sometimes maintaining a balanced diet is not enough to keep the toxins at bay.
In periods when we need to consume drugs or in which we have periodic intestinal constipation, the organs of our body are working poorly.
The kidneys and liver are usually the most affected by the proliferation of toxins. This is noticeable in reducing the energy we can present and even in the appearance of our skin.
Fortunately, nature gives us abundant elements to eliminate toxins from our body and regain our health.
6 smoothies to eliminate toxins
Active components of fruits and vegetables, as well as their high vitamin and nutrients which of these fluids are the perfect allies for eliminating the toxins present in our body.
1. Orange and cucumber smoothie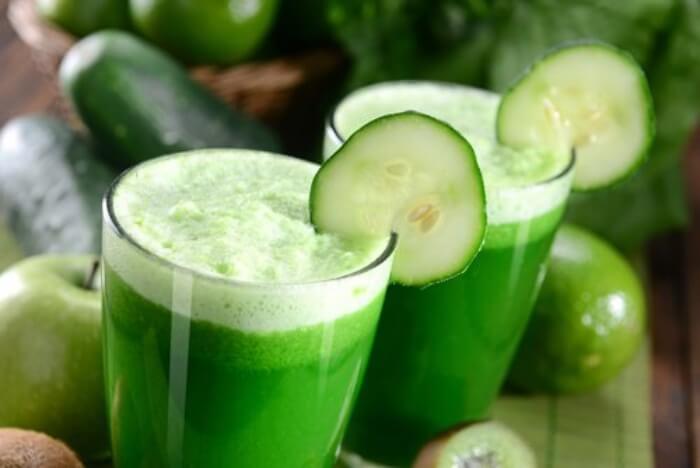 Ingredients
2 oranges (300 g)
1 / 2 cucumber (150 g)
10 spinach leaves (100 g)
Celery (50 g)
1 slice of pineapple (120 g)
1 teaspoon honey (5 ml)
Preparation
Squeeze the oranges and place the extracted juice in the blender.
Add half unpeeled cucumber, pineapple slice and celery.
Mix for 5 minutes.
Add the spinach leaves and continue mixing.
Pour the contents into a glass, add the honey and drink immediately.
2. Green apple smoothie
Ingredients
1 green apple (200 g)
4 stalks of celery (200 g)
1 cucumber (300 g)
10 spinach leaves (100 g)
2 leaves of chard (50 g)
Lemons (200 g)
Ginger (150 g)
Preparation
Chop the apple into pieces and place it in the blender.
Add celery, cucumber, spinach leaves, chard and ginger.
Continue mixing for 5 minutes.
Next, squeeze the lemon juice - which you add to the smoothie served in a glass.
You can also pass all the ingredients (except the lemon) through the juice extractor.
This drink can be taken every morning to more effectively eliminate toxins.
3. Cranberry juice

Ingredients
Cranberry juice (250 ml)
Water (1,5 ml)
1 / 2 tablespoon ground cinnamon (20 g)
1 teaspoon grated ginger (10)
A teaspoon of nutmeg (10 g)
Freshly squeezed orange juice (125 ml)
Preparation
Heat the cranberry juice and water until boiling.
Reduce heat and add cinnamon, ginger and nutmeg. Cook for 15 minutes.
Let cool to room temperature and add the orange juice.
This preparation serves to eliminate toxins if you consume this cold drink every morning for 7 days in a row.
4. Pineapple and mango smoothie
Ingredients
1 mango medium size (300 g)
3 slices pineapple (300 g)
Skim Yogurt (optional)
Preparation
Place the ice cream in the blender to crush it a little.
Add the mango previously peeled and cut into pieces.
Add the pineapple.
Make sure the ingredients are well cut and mix well.
Take the drink immediately to avoid oxidation of vitamins present.
You can add yoghurt to this preparation which will result in health benefits in your fight against toxins.
5. Beet, apple and tangerine smoothie
Ingredients
1 small cooked beet (200 g)
Mandarin (200 g)
1 big apple (300 g)
Water (250 ml)
Preparation
Cut the beetroot and apple into pieces without peeling them.
Mix beetroot and apple with water at medium speed for 3 minutes.
Add the mandarin segments.
Mix and drink immediately.
This drink is super refreshing and is a powerful blend to eliminate toxins.
To consult also: Eat mandarins to eliminate fat!
6. Orange juice, pineapple and mint
Ingredients
Oranges (400 g)
2 slices of pineapple (200 g)
3 mint leaves (20 g)
Water (250 ml)
Preparation
Squeeze the juice of the oranges and pour into the blender.
Add pineapple, mint and water.
Try to get a homogeneous mixture.
You can add 3 ice cubes to make it more refreshing.
Consume this preparation 1 times daily for 3 days.
Eating fruits and vegetables will often provide you with the nutrients and vitamins you need to enjoy good health.
If you include these smoothies in your daily diet, you will offer additional components to your body to optimize its cellular performance.
With these drinks you not only accelerate the elimination of toxins, but you can also get rid of the few pounds that clutter you.
This article appeared first on https://amelioretasante.com/6-smoothies-pour-eliminer-les-toxines/