There are different recipes with one thing in common: their exquisite taste and incomparable aroma. Make a delicious cake with orange and chocolate is simple and fun ; it is enough to show creativity and want to make room for an incomparable dessert on your table.
The combination of chocolate and orange gives an original and exquisite flavor. During a special holiday, Christmas or a family snack, there will always be a very special place for this cake.
Orange cake with chocolate ganache
Ingredients for the orange cake
3 eggs (180 g)
2 cups of sugar (200 g)
1 / 4 c. salt (2 g)
1 1 / 2 cup of wheat flour (170 g)
1 / 3 cup of sunflower oil (80 mL)
1 sachet of baking powder (10 g)
1 big orange with a lot of juice (50 g)
For garnish and ganache
3 tablespoons honey (30 g)
2 tablespoons of butter (30 g)
2 dessert chocolate bars (200 g)
2 cups of cream with 35% fat (200 mL)
Cake preparation
The first thing to do is to wash the orange well and cut it into small pieces, with the bark included. More orange is sweetthe more the cake will be perfumed.
The orange should be crushed with eggs, sugar and sunflower oil until a homogeneous mixture is obtained.
Place the mixture in a large bowl and add the wheat flour, previously sifted with the yeast and salt. Beat by hand until everything is completely mixed.
In a large mold, floured and buttered, take the mixture to the oven at a temperature of 170 ° C for 35 minutes. As an option, the grill can be used to grill the cake on the top.
Preparation of the chocolate ganache
In a saucepan, boil the cream, honey and butter.
Place the chopped chocolate in a bowl. Add the still boiling mixture until it completely covers the chocolate. Let stand for five minutes for all flavors to blend well.
Mix well until a smooth paste is obtained. A few minutes later, la ganache can be used as a filling and coating for the cake.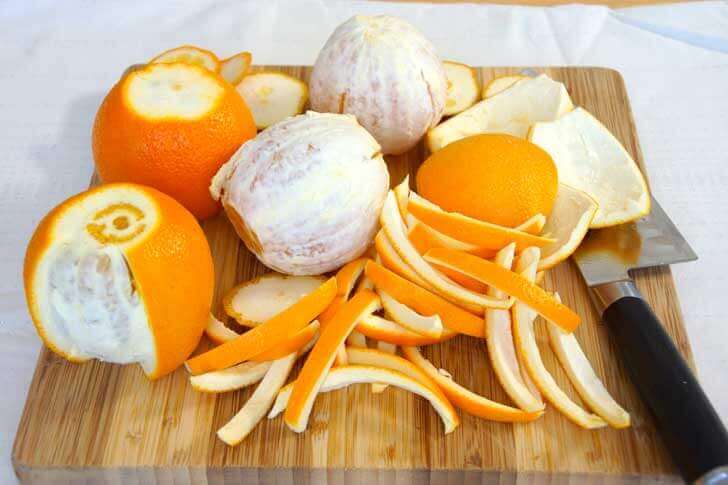 Orange and chocolate cake
Ingredients
1 / 2 cup of sugar (50g)
1 medium egg (60 g)
1 / 2 cup (50 ml) of milk
1 portion of butter (75 g)
1 tablespoon of cocoa (10 g)
1 cup of wheat flour (100 g)
1 / 2 cup (50 ml) orange juice
A pinch of baking powder
Preparation
In a bowl, mix the butter and sugar.
Add the egg and beat until the sugar is dissolved.
add wheat flour and yeast, then beat until you get a smooth paste.
This mixture must be divided into two parts. In a bowl, add the orange juice to the first part and mix well. Add milk and cocoa to each other and continue beating.
In a previously greased mold, the two mixtures are poured in a disordered manner to obtain a marbled sponge cake.
Chocolate chips or nuts can be added to the mix.
Bake for 40 minutes at 180 ° C.
Marbled cake with orange and chocolate
Ingredients
2 cups of sugar (200 g)
6 medium eggs (360 g)
1 c. vanilla (5 mL)
7 tablespoons of butter (150 g)
5 large cups of wheat flour (500 g)
1 tablespoon baking powder (10 g)
2 cups (200 ml) orange juice
1 teaspoon of orange zest (5 g)
1 cup (130 g) chocolate bar
Preparation
Water bath, Melt the chocolate bar and let it rest.
In a bowl, beat the butter with the sugar. The mixture should have a creamy consistency, and thoroughly integrate both ingredients.
Then add the eggs one by one, stirring constantly.
Flour and baking powder, mixed together, are added alternately with the Orange juice.
Add orange zest and vanilla. Mix well until a homogeneous mixture.
Reserve a cup of the mixture to add to the previously melted chocolate.
Pour the two mixtures into a floured mold and set aside, alternating to get the marbled effect.
Bake for one hour at a temperature of 170 ° C. You will know that the cake is well cooked if you plant a knife tip and come out clean.
This delicious variant of the orange and chocolate cake can be decorated with chocolate chips, whipped cream, etc. As you like !
This article appeared first on https://amelioretasante.com/preparez-un-delicieux-gateau-au-chocolat-et-a-lorange/